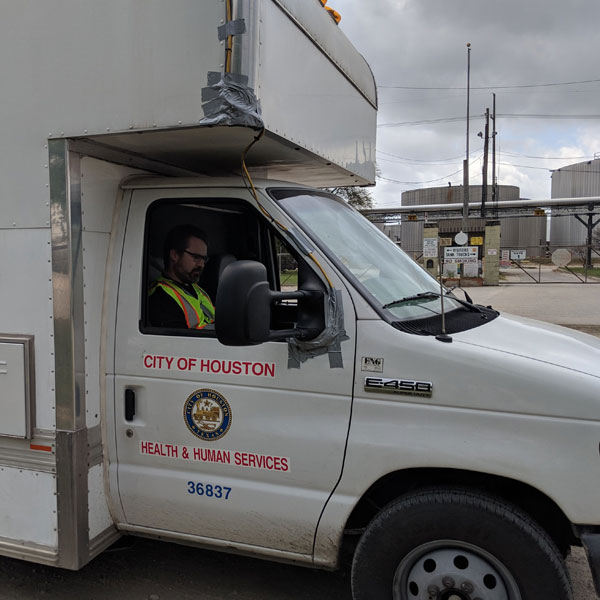 Tracking Air Pollution after Industrial Accidents
Case Studies
07th Feb 2021
---
Industrial accidents, such as major leaks and fires, require rapid-response analytical tools in order to protect first responders, mitigate fire and explosion risks, ensure community safety, and collect data that will enable forensic evaluation of the causes and magnitude of chemical releases due to the accident. AROMA-VOC can quickly and accurately identify sites with elevated chemical concentrations across a wide area, while providing laboratory grade, multi-chemical analysis of each identified plume to quantify toxicological risk, even while traveling at highway speeds. AROMA has repeatedly proven extremely valuable in rapid-response situations.
In 2017, an AROMA instrument was deployed in response to an unplanned shutdown of the Benicia Valero refinery in California, which was caused by a complete loss of electrical power to the facility. This shutdown led to large-scale flaring that caused black smoke to blanket nearby areas. An immediate shelter in place was issued for nearby schools and similar facilities. Coordinating with the Bay Area Air Quality Management District, we deployed an AROMA instrument to collect air quality data first at schools and then downwind of the facility, to assist in determining if additional interventions would be required. The AROMA data showed no indication of dangerous concentrations of benzene in the air surrounding the school or in the downwind areas.
In March 2019, a facility operated by Intercontinental Terminals Co. (ITC) suffered a leak and large fire that blanketed the greater Houston area in smoke. Working with the Houston Health Department, EDF, and the Galveston Bay Foundation, we shipped an AROMA instrument by Fedex from our headquarters in Burlingame to Houston, where it was temporarily installed in Houston's Mobile Ambient Air Monitoring Laboratory to collect data on the same day.
The AROMA instrument detected extremely high concentrations of benzene downwind of the ITC fire site. Data from the analyzer was fed in real time to the incident command post and the City of Houston to provide up-to-the minute information of the most dangerous of the pollution concentrations collected. We tracked the chemical plume until we reached the city boundary 12 miles downwind of the ITC facility where we were unable to travel any further. The AROMA instrument also analyzed water samples collected from the Houston Ship Channel to evaluate the impact of the chemical release on that body of water.