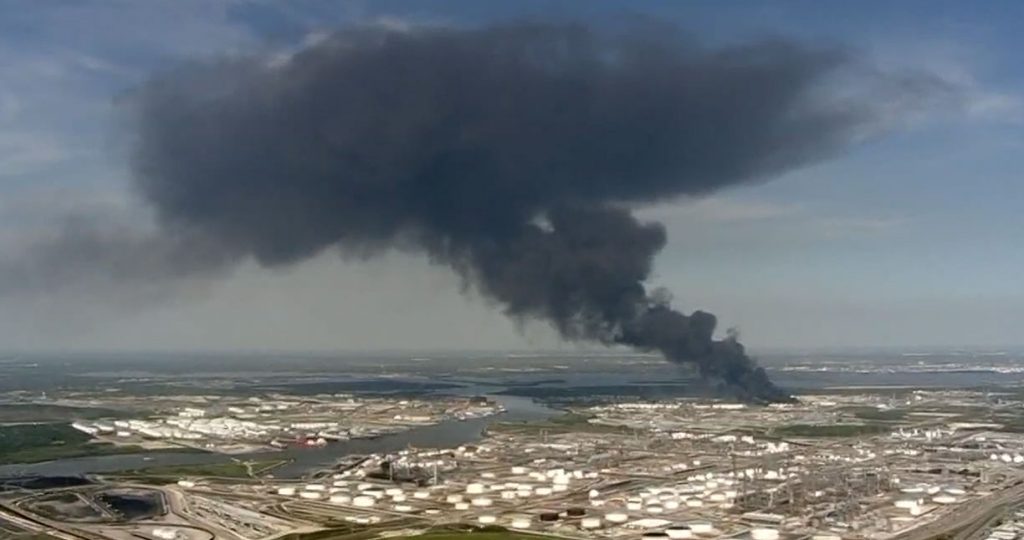 Reflecting on the ITC Chemical Fires, 4 Years Later
News
28th Apr 2023
---
Four years after chemical fires sent chemicals billowing for weeks in a Houston-area community, regulators are still reflecting on how to mitigate the effects of such accidents in the future. In a new 2-part series, the Texas Tribune documents the events leading up to the fires and in the aftermath, exposing gaps in air monitoring efforts and highlighting the significant health and environmental impacts of such events. 
Shortly after the ITC fires in March 2019, Entanglement Technologies was on the ground in Deer Park, Texas, with the Environmental Defense Fund, monitoring benzene and other hazardous chemicals with our AROMA platform. Using AROMA-VOC, the Entanglement team detected elevated levels of benzene days after the fires were extinguished, as far as 12 miles downwind of the ITC facility. The second part of the new Texas Tribute series details the immediate, and potential long-term, effects of these benzene levels on local residents, underscoring the need for high-quality data collection and dissemination. 
The Tribune articles highlight that the U.S. Chemical Safety and Hazard Investigation Board should be issuing their final report on the 2019 ITC Terminal Fire later this year, and some Houston-area residents are suing ITC. In the years following the fire, Harris County Pollution Control Services unveiled a new mobile monitoring unit called the rapid ambient air monitoring (RAAM) and acquired their own AROMA analyzer to rapidly respond to air quality concerns in the wake of future industrial accidents. In 2022, community groups in Houston and the City of Houston Health Department were also selected to receive funds from an EPA grant to conduct air monitoring of hazardous air pollutants such as 1,3-butadiene, acrolein, and ethylene oxide. 
The events surrounding the ITC chemical fires are powerful reminders of the importance of air quality monitoring both in industrial settings and to the broader surrounding communities.
To learn more about how Entanglement Technologies' AROMA platform can enhance rapid response air and water capabilities, please contact us.