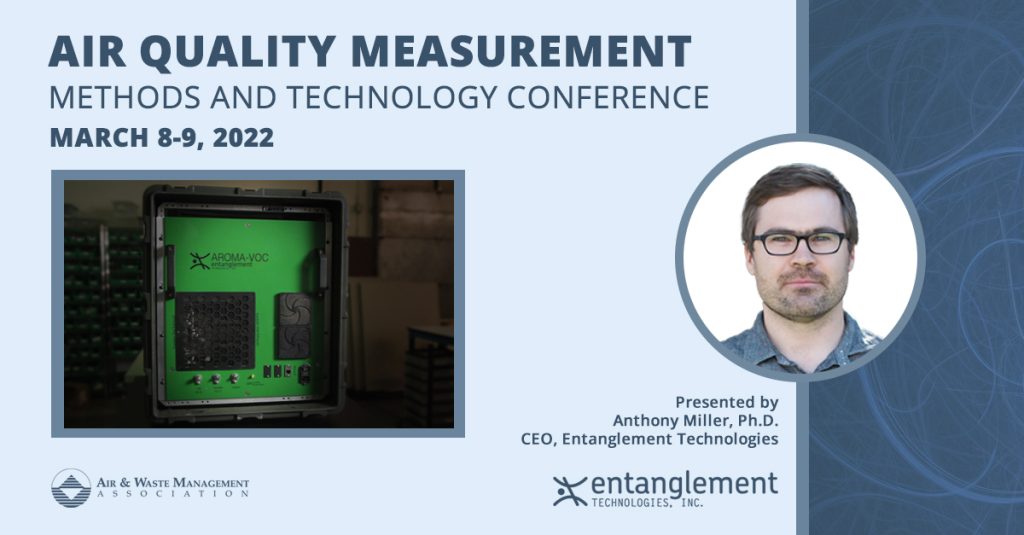 Participation at the AWMA Air Quality Measurement Methods and Technology
News
04th Mar 2022
---
Entanglement Technologies is exhibiting and presenting at the 2022 Air Quality Measurement Methods and Technology Conference in San Diego, CA, March 8-9. 
We are constantly working to meet the critical needs of the air monitoring community. Last year, we released AROMA-ETO, which can detect single digit part-per-trillion concentrations of ethylene oxide in ambient air. At 2PM PST on Wednesday, March 9, Entanglement Technologies CEO Tony Miller will highlight our recent advances in ethylene oxide measurements during his talk titled "AROMA-ETO Part Per Trillion Sensitive, Realtime Ethylene Oxide Measurements in Ambient Air." In the same session, at 4:35 PM PST, the U.S. EPA Office of Research and Development will present on the "Intercomparison of Ethylene Oxide Measurement Methods Under Controlled and Relevant Atmospheric Conditions," providing necessary insights on strategies for monitoring ethylene oxide in the ambient environment.
New techniques to detect and monitor per- and poly-fluoroalkyl substances (PFAS) in environmental matrices is also a prominent current focus for environmental agencies. To address a growing need for monitoring PFAS in ambient air, Dr. Miller will be presenting on our recent development efforts in this space. Check out his talk on Wednesday, March 9, at 9:20AM PST titled "Development of a Thermal Desorption Cavity Ring Down Spectroscopy Analyzer to Detect PFAS Compounds in Ambient Air."
Senior Account Executive Aurelie Marcotte will be available throughout the conference at the Entanglement Technologies Exhibit Booth (#18) in the Westin San Diego Emerald Ballroom. Stop by to see one of our AROMA instruments and learn more about how AROMA can enhance your air quality measurements.