Mobile, lab-quality hazardous air pollutant monitoring in Denver
19th Mar 2021
---
AROMA-VOC was recently in the Denver area, collecting mobile air quality data from a rental minivan. After the instrument was uninstalled from the Colorado Air Monitoring Mobile Laboratory (CAMML) on March 8th, Entanglement's CEO Tony Miller and Senior Account Executive Aurelie Marcotte were able to re-install the tool and begin mobile monitoring operations within 30 minutes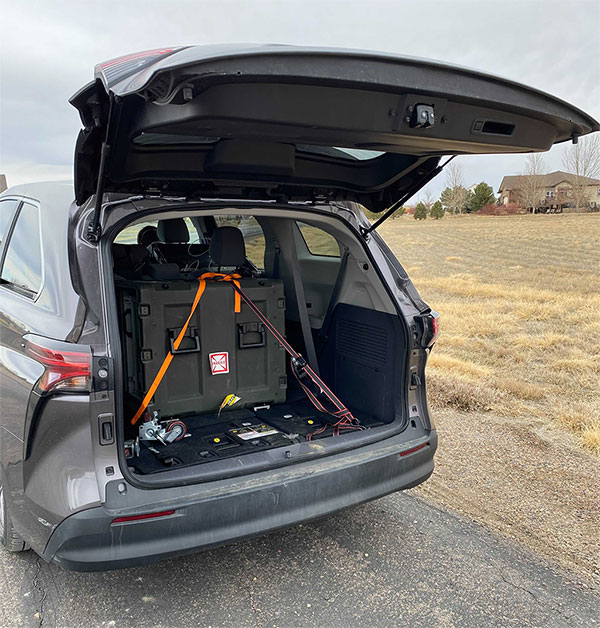 AROMA-VOC collects speciated, lab-quality data on hazardous air pollutants (HAPs) in the field or in a vehicle, with part-per-trillion detection limits for most compounds. Using AROMA-VOC in RapidScan mode, the instrument took real-time measurements continuously during the drive, which included passes near an oil and gas well pad, landfill, wastewater treatment plant, and oil refinery.
AROMA-VOC data chemically identified the well pad through a distinct alkane spike, and found an increased methane signature near the landfill, with both findings consistent with wind direction. The refinery had an overall elevated alkane signature with significant increases near holding vessels and fill stations.
Running AROMA-VOC in RapidScan mode provides class compound identification down to ppb levels in seconds, facilitating real-time identification and characterization of areas of interest. These areas can be then further investigated via the instrument's LabScan mode, which is able to separate and quantify compounds down to part per trillion levels.
Contact us to learn more about how AROMA-VOC can turn any vehicle into a mobile air monitoring laboratory in less than an hour. No buildout required.