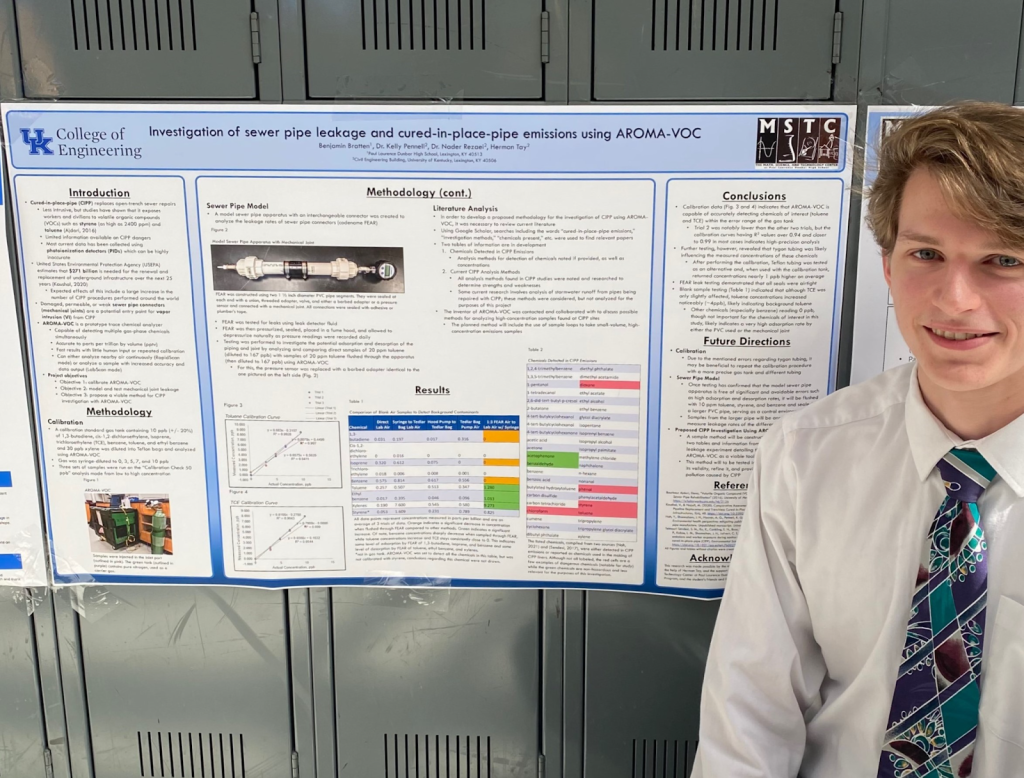 High School Student Uses AROMA-VOC in Research with the University of Kentucky
News
05th May 2022
---
Over the last two years, Benjamin Bratten, a high school senior at Paul Laurence Dunbar High School, has been working to study sewer pipe leakage and cured-in-place-pipe (CIPP) emissions. He has had a "secret weapon" on his side: AROMA-VOC.
Bratten works with Dr. Kelly Pennell and her lab at the University of Kentucky, where they have access to cutting-edge research tools including AROMA-VOC. "Working with high school students often emphasizes the best parts of research," Dr. Pennell says. "For example, they authentically embrace the unknown, show up with curiosity, and normalize asking questions about big and little things."
In Bratten's study, there are three parts. First, he learned how to use and calibrate the AROMA instrument, working with postdoctoral researcher Dr. Nader Rezaei. "AROMA is easier to use than traditional analytical techniques, such as GC-MS, and it is very accurate," Dr. Rezaei says.
In the second part of the study, Bratten worked with second-year graduate student Herman Tay to develop a model sewer pipe apparatus with an interchangeable connector to analyze leak rates of various sewer pipe connectors. They then used AROMA-VOC to measure volatile organic compounds (VOCs) that were flushed through the apparatus, including benzene, toluene, ethylbenzene, xylene(s), trichloroethylene, 1,3-butadiene, styrene, isoprene, and 1,2-dichloroethylene.
The third part of Ben's research, developing a method to measure emissions from CIPPs, is still in progress. As Bratten explains: "CIPP emissions are currently measured by PIDs or GC. I think that AROMA would have a lot of advantages over these techniques in the field."
Bratten presented his work in a poster at the senior symposium for the Math, Science, and Technology Center at Paul Laurence Dunbar High School (as pictured above). Dr. Pennell shared a picture from the symposium, reflecting: "Ben [Bratten] always seemed excited to hang out in the lab, learn something new, and work together with us to investigate solutions to big problems. We are going to miss him." Bratten will be attending Texas A&M University in the fall of 2022 and plans to major in chemistry.